1918 Beacon Street in Cleveland Circle, Brighton, MA.
A family restaurant that has been providing exceptional delicious breakfast, burgers, sandwiches and much more in a beautiful, clean, and rustic environment. We only source our ingredients from high-quality vendors to give you the best flavor. But what really makes people excited about Eagle's monstrous challenges burgers!

We've been featured on The Phantom Gourmet, The Travel Chanel, The Rachel Ray Show and more! Come to Eagle's Deli to enjoy a delicious meal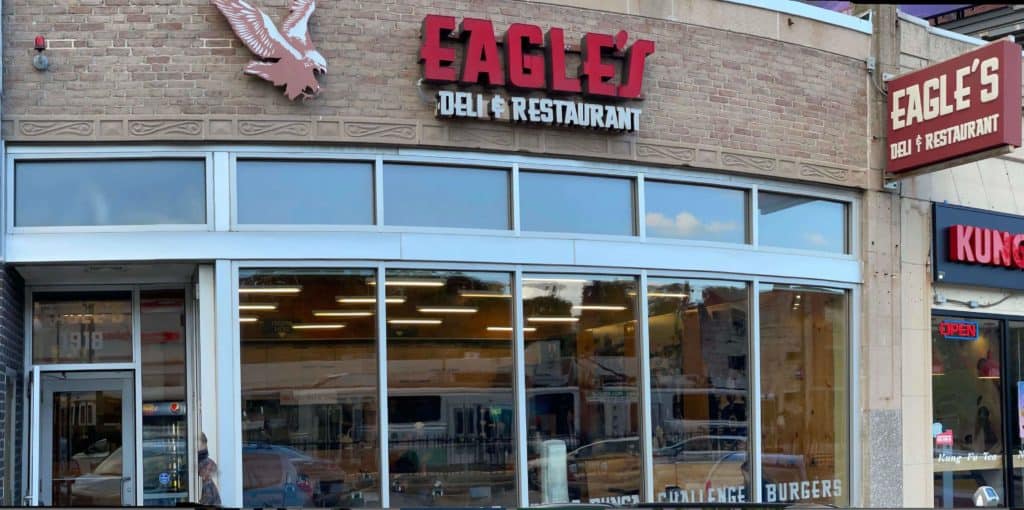 SERVING THE BEST BURGERS IN BRIGHTON
Everyday: 8AM-10PM
CUSTOMER REVIEWS
Burger was crazy good - it's a fast food restaurant, they do food competitions over there. So if you only have a little time and walk through, get that burger with some fries!




Ben W.
Great breakfast! Always enjoy coming here. Also, the cheeseburgers are delicious and the fries are awesome, too! We have been coming here for over 20 years and we have always had a great dining experience. This place is so popular that it was featured on the "Man vs. Food" TV show several years ago.

Austin O.

Great environment. Good value and excellent taste across the entire menu. My food was prepared quickly and was a perfect size for the money. They had great burgers and sandwiches. Prefect for a late lunch, brunch or mid snack food.



Derek
COPYRIGHT @ EAGLE'S DELI | 1918 Beacon St. Brighton, MA 02135